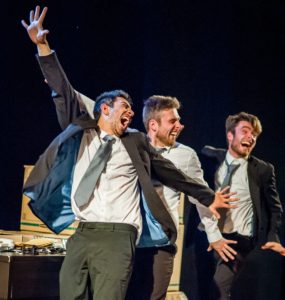 We at Rendered Retina truly believe in the transformative power of theatre, not only as an audience's place of escape but also, and maybe most importantly, for the performers themselves.
'Hugely energetic and positive. They are natural teachers […] The pupils loved working with them' Winchester College
We currently offer our two award-winning shows, Timon of Athens and Form, as well as a range of workshops looking at Shakespeare, devising and physical theatre. If you book one of our performances then we offer a workshop alongside that focuses on one of the main styles or techniques used in the show as well as focusing on key practitioners.
The day was a tremendous success'  William Edwards School and Sports College
All of our workshops can be delivered with a focus on a particular practitioner. Practitioners we can deliver are:
               Grotowski                                                 Phillipe Gaulier
               Brecht                                                        Steven Berkoff
               Emma Rice                                               Antonin Artaud
               Jacques Lecoq                                         Max Stafford-Clark
Schools and colleges can get in touch with us about booking workshops or performances by filling out a Workshop Enquiry Form. Our prices can be found on our 'Prices' page.
Download Our Education Pack